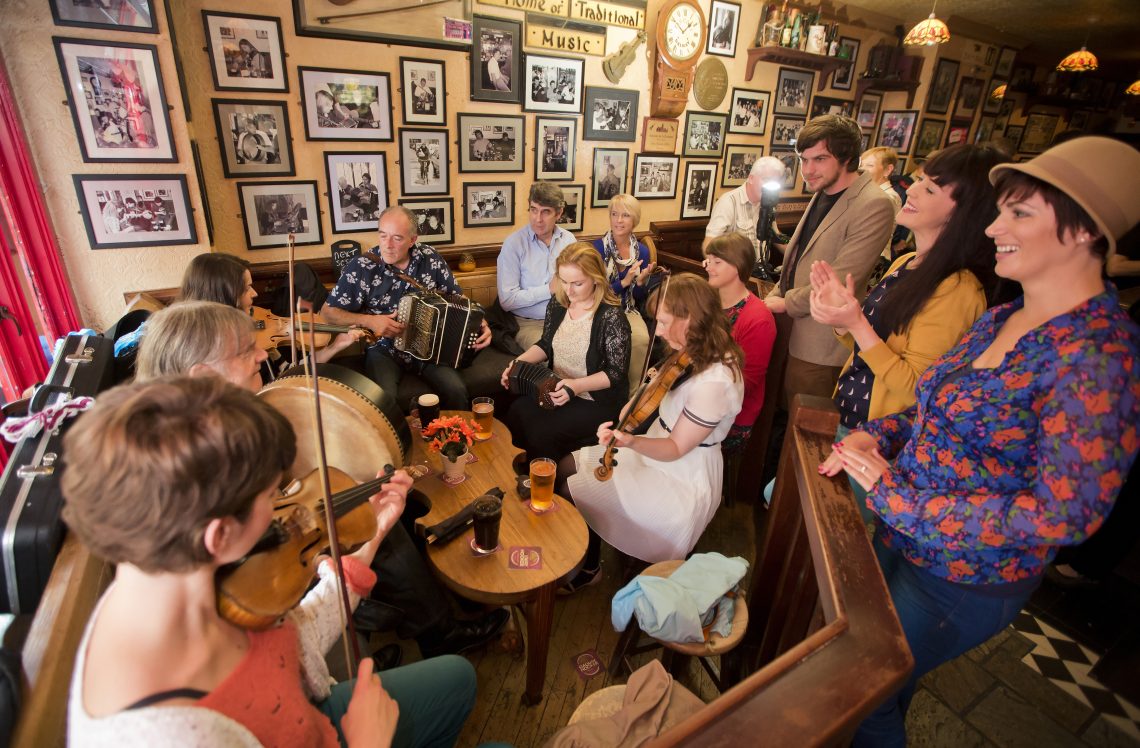 Best Pubs for Trad Music in Galway
Galway has a well deserved reputation as one of the best cities in Ireland for a night out, friendly locals and amazing bars are just some of the reasons for this. Another very important reason is the trad music scene, many bars have a number of sessions daily. No matter the time of the year you will find a brilliant atmosphere in the cities bars. Here is a look at our top 5 bars for a session in Galway.
Taffees
Bustling and friendly, this 150 year old cheery village pub is enjoyed by locals and visitors alike. Located on Shop Street in the city centre as you pass by its stone facade you can hear traditional Irish music passing through the windows. The bar is well-known for its atmosphere and traditional Irish music which has been playing there for over 20 years. Anyone is welcome to come along and listen or play (if you can) and there's no cover charge. Sharon Shannon and Sean Keane have performed here, as well as a number of wandering minstrels and local musicians.
Tig Coli
This cosy pub is well known for it's impromptu Traditional Irish Music sessions, where musicians often visit the pub for a relaxing pint and end up in the middle of the fun. Tìg Choili is an ideal spot to drop in for some famous Irish coffees in the middle of your shopping, and get lost in the amazing display of photographs of well known musicians and celebrities alike. Trad music is played twice daily; Monday to Thursday 6pm and 9:30pm; Friday and Saturday 6pm and 10pm; and a day session on Sunday at 2pm and then Sunday evening at 8pm
1520 Bar
A relatively new addition to the Latin Quarter 1520 embraces all that is best about Galway, with a warm welcome to visiting guests and locals. Consistently offering an excellent experience for our customers, our guests are immersed in another world of warmth, conversation, laughter and fun. What the we call 'the craic'….real fun. The team are so hospitable, with a warm welcome and friendly attentive service. There is live music twice daily with the first session kicking off at 6pm. This venue is well worth a visit on your next trip to Galway.
An Púcán
An Púcán located just off Eyre Square is one of Galway's best known and most popular bars. The multi award winning venue is popular with tourists and locals alike. The bar is well known for great food and Galway's best venue for watching live sport in addition to being the home of great live music. An Púcán hosts at least two sessions daily, with the front bar the home of all your favourite tunes during the week while at the weekend the Jameson stage is the home to some of Galways top four and five piece bands. Check out An Pucan on social media for more information
The Crane Bar
The Crane Bar on Sea Road is one of Galway's best known traditional music pubs. It has long been a haunt of those who love to play and those who love to listen to them. Situated in the 'Small Crane' Square, The Crane Bar offers music nightly both upstairs and down. Upstairs at The Crane Bar is a much loved venue, seating 70 in an intimate and relaxed atmosphere remarked on by both performers and audiences alike.
Concerts in the Crane range from singer/songwriters to traditional to roots music. Known far and wide as 'The Listeners Club', upstairs at The Crane Bar has been played in by the best known artists in the business as well as up and coming new talents.